was SO MUCH FUN!!!!
Tom got lots of rest and was able to play golf, while I spent some quality time with Maria. I just love her mom and dad.... so SWEET!! Maria's mom made Tom homemade Enchilada's and tortilla's. YUM... I sat there drooling.
I also tried making a tortilla... BOMB! LOL
wish I had pictures, but my battery was dead from the night before. I got some great shots of all the girls. Will post later.
Here is a preview of our BEAUTIFUL BRIDE!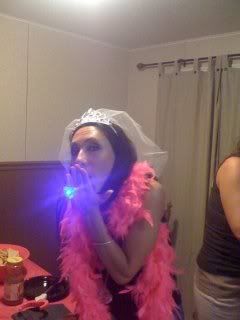 I CAN'T wait to go back for the wedding August 22nd. GOOD TIMES FOR SURE!!!!!!!!!
Tom sees the cardiologist today. Please keep him in your prayers.
Workouts and eats are going GREAT... I AM IN THE ZONE and on FIRE!
Hope you are all doing AWESOME!
XOXO