I received this letter today from my mom so I want to share it with you. THANK YOU so much for your support, love and encouragement. It truly meant the world to my mom.
Many thanks to:
Elizabeth Coutu (cute card and Inspirational magnet)
Tammy Allen (nice card and inspirational message)
Jen Weatherman (nice card with encouraging message)
Teresa Amabisca (Crazy card as always)
Robert Soltis (Wonderful letter giving courage and inspiration)
Steve Fels (Inspiration letter)
Debra Golding (Buffmother) (nice card with inspirational message)
Abby Campbell (wonderful and inspirational letter and card)
Blake Bradley (Inspirational letter and shield of strength)
Conni Otto (nice card with inspirational message)
Danee Vanvleet (Inspirational letter)
Suzanne Ihde (nice card and inspirational message)
Julie Laughery (Buffmother) (nice card with encouraging message)
It is amazing to me how many wonderful people Tracy has connected with through the Body for Life Program. I am very proud of my daughter on what she has accomplished through Body for Life and other challenges after having three children, holding down a full time job and wife. She is an amazing girl. This has definitely been one of the hardest challenges I have had in my life. Sometimes I feel I can not go any longer but really have to reach down inside. I am sending a pic of the dunes that we had to challenge last week. This was very difficult for me, I did make it up and down three times and honestly I didn't think I was going to make it up the first time. This came right after i had received at least three fourths of the letters and cards the night before. Believe me they truly stuck in my mind and gave me the courage to accomplish it. Thank you to all of you for your encouragement and being part of my daughters life. I know you are all busy people and for you to take the time to send me a card or letter is phenomenal, especially when most of you don't even know me except through my daughter. Thank you, Thank you, to each and every one of you.
As I don't have most of your emails I am leaving it in Tracy's hands to hopefully get this message to each and every one of you.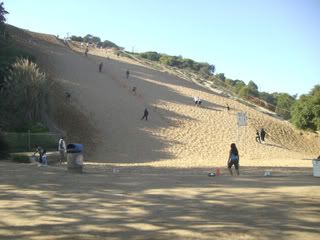 Needless to say I am so proud of my mom. What motivation.
Now onto my new winter sport. Snow shoeing ....yes it is SO MUCH FUN!!!
I have to say my 7 year old daughter Karli was so excited and deep down I was kinda bummed cause I just knew 10 minutes into it she would be crying.. wanting to turn around. Did she prove me wrong...oh my heck what a trooper. It was a total blast and I am so excited to get out again next weekend. Fresh air, beautiful scenery and exercise with the family. Can't beat it.
I will get pictures for ya next weekend.
SO my INSPIRATION for this week = my MOM and my daughter KARLI.
Have a SUCCESSFUL week everyone.
XOXOXOXOXO