Well, we bit the bullet and bought my DD a boxer puppy for her birthday. YES..a Boxer. Our intensions were to get a small dog, but while at the Humane Society I spotted one and told my husband how much I liked the looks of the dog. He was THRILLED because he loves them. They look muscular and strong. :)
While at FAME in Boise Karli met Monica Brant and was even though she was little...she just loved her. She couldn't quit talking about her. SO she asked me yesterday if she could name her dog Monica. I said how about Mo. Then she decided to add Jo for her middle name since that is her middle name. So I guess her name is MoJo. LOL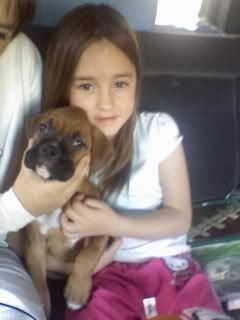 Needless to say I'm the one getting up with her at night to let her out to potty. But, she is so cute I can handle it. My motherly instincts have kicked in. ;)
I am on C day 24 and am spotting. I feel strong today. I have to admit friday, sat and sun I felt emotional. Started a little pity party in my head, but knew it had to be PMS..so I fought it off.
Today was the grueling stairs at work. Four times up and down don't seem like much, but I was dying!! One of the miners hits it 25 times. I told him I will beat him by the end of this year. :) I LOVE competitions.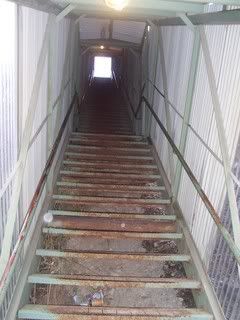 eats will be right on track. Elk, greens, apple, turkey burger, yams.
WATER,WATER,WATER!!!!
Hope everyone else is having a FANTASTIC week. Let's make it a GREAT one!!!
XOXOXOXOXO