#1 = Austin
He has been walking/running on the treadmill at a speed of 5 every night. His short little legs are going and he is huffing and puffing, BUT he is doing it. The amazing part is he has been putting on my weighted vest..which ia an extra 20 lbs. I am amazed at his determination.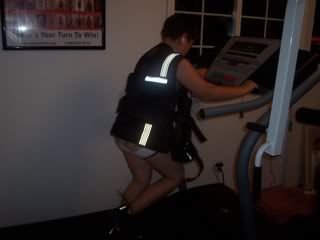 The pic is pretty dark and he is in his undies, but I wanted you to get a visual of this. :)
#2 = Karli
She asked Tom if he would take a bike ride with her to our local grocery store the other night. He said "oh honey you still have training wheels and ride home is all uphill." She told him "I don't care I can do it." He looked at me..shrugged his shoulders and said "okay..lets go"
Karli took off running outside and Tom told me to standby cause he would probably be calling me to come pick them up.
After about 30 min I decided I better go pick them up. I headed down around the corner and low n behold here they are coming back. I was in AWE and once again inspired.
It shows if you want to do something YOU CAN DO IT!