I think that is the coolest part of working out and staying fit is having the title
BUFFMOTHER!
It's the best feeling in the world to have three kids (16,9,6) at the age of 36 (37 in July) and still be lean n mean.
This is an old family pic, but it's a reminder of why I must stay fit n healthy.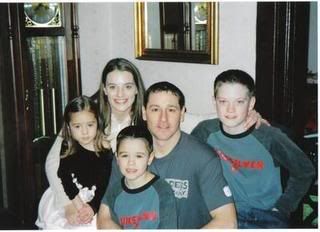 My 20 year class reunion is coming up and I'm sure my classmates won't be surprised when I tell them all about Body for LIFE, my first figure competition and how I would love to open a training studio for women. Most of them will remember Tracy Loper as the girl who beat the boys in the bench press and dip contests. But the feeling of coming back a mom of three and more fit than ever will be a great feeling. :)
Yesterday Austin won 2nd place at his wrestling tournament. The coolest part is when we arrived he weighed in and then we found out there were no kids his age/weight to wrestle him... So we decided to bump him up in the next weight class, which is 10 lbs heavier. We didn't tell Austin cause we figured it would freak him out. He wrestled his little heart out with two wins, one loss. When it was all said and done we told him about wrestling up 10 lbs and his eyes grew real big then he just gave us a huge smile. It's amazing what we can accomplish if we go into it without knowing or we go into it
really
believing in ourselves. Have you ever had anyone change your weights for ya...the whole time going up in weight by 20 lbs instead of the 10lbs you asked for? Well I have and I was able to do it.
**update** Dustin golfed a 41 and the 1st place winner golfed a 40 so he did AWEsOME!
I LOVE watching my kids play sports and the sports THEY love are not necessarily the sports I would pick for them. As a kid I was forced to ride horses and I HATED it. No..I won't have self pity and bring up my childhood, but I will say pay attention to what your kids passion is, help them accomplish their dreams and goals. Maybe your 12 year old daughter is looking at fitness magazines and you think she is a little strange, but heck I
was
that little girl and now at 36 I'm fulfilling my childhood dream and it feels REALLY GOOD!
Have a Blessed Sunday everyone.
xoxo