CONGRATS to the boys.. they did FANTASTIC!!!!!!!!!!!!!!!!!!!
Ryan McCorkle won the Benchman competition.
Jeff Hunter won the Gas-Tester competition.
We won the Rope rescue competition.
We won the Field competition.
We took second place in the First Aid competition.
The following individuals can be very proud of the good work they did in preparation, and in their performance this past weekend.
Bob Burden, captain
Tom Jeffries
Mark Swope
Dale Stepro
Dan Pignotti
Jeff Hunter
Ryan McCorkle
Scott Hogamier
Steve Thomas, trainer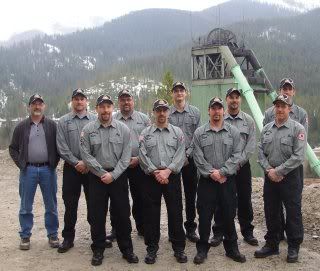 My hunk of burning love, Tom Jeffries, is the second man from the left back row.
ON TO FERNIE, BC in September. WOOHOO!!!!!!!!!!!!!!!!!!!