Beautiful Maria took third. She looked AMAZING!!!!!!!!!!!!!
Maria took the time to go buy Karli a cake and gift. AMAZING woman she is...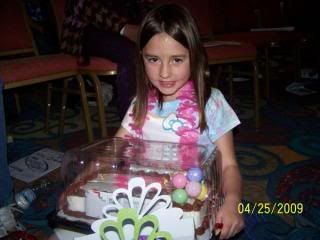 Seeing how excited my kids were to see Maria on stage really pumped me up. I SO want them to see me and I they WILL!!! My Grandpa even said he would come. TOO COOL! I asked Karli is she would yell "GO MOMMY" and she said "No mom, when you win I will come up and hand you your trophey." TOO CUTE!!!
To all my sweet friends who email me, text me and call me. I LOVE YOU ALL SO MUCH!!
THANK YOU from the bottom of my heart.