Oh my heck... I am on fire. Not only physically, but FINALLY spiritually. Church was so good yesterday and it felt so good to feel His presence while worshipping. I have a whole new mind set lately. I am UNSTOPPABLE! I am FINALLY ready to have my very own Body for LIFE challenge here in Idaho. I will also talk about the BuffMother program and hormonal timing. Actually, I don't know if it will end up happening because I will not commit to it unless I get 10 women to sign up and prepay their gym membership. I want commitment. I trust the Lord truly wants me to step out of my comfort zone and start TEACHING fitness.
I will have COURAGE to pursue my passion!
By the way check out this new kids shield. I am going to get myself one...too cute!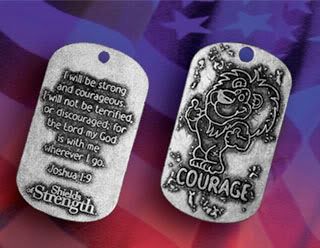 My son Austin took 2nd at the state wrestling tournament. So proud of him.
The Cardinals kicked bootay this weekend. YEAH!
GO Kurt Warner and Larry Fitzgerald!!!!!!
I better quit jabbering and get to work.
Love ya all!!!!
XOXO