Day 1 of my competition training.
My program looks tough and while reading it I had a flash back of my very first workout for my 1st Figure show. I came out of my bedroom crying telling Tom I just didn't think I could do it. He looked and me and said "ARE YOU KIDDING...you are going to give up THAT EASY." Well, that was all it took. I sucked up my tears and said "NO, I will get on stage."
I feel alot stronger this go around having all the beautiful quotes Jonnae left with us.
I "Get to" Compete, I am "GONNA" do it AND I can do ALL things through Christ who Strengthens me.. to name a few.
I am VERY excited that Elizabeth and Kevin Coutu will be at my show. ALL THE WAY FROM KANSAS. WOW,WOW,WOW! (love you two...MUAH)
Oh, and Tom decided we would drive so our kids can go as well. My kids seeing me on stage will be an ultimate dream come true.
on another note....
10....TEN days people until Kansas Body for LIFE weekend. Oh my goodness...it's going to be JUST what I need. I need to get around some like minded people. Tom is going to bring his clubs and relax a little. HE NEEDS IT DESPERATELY!
The fact that Kenny Vaughan will be there is another DREAM COME TRUE!! I feel so blessed. God is sooooo good!!!
THANK YOU Blake for making this dream come true. You are a true friend and I feel so blessed to know you.
A quick story about Shields of Strength and how much they mean to me personally. You all know how BAD I wanted the EAS Champions jacket. Well, if you didn't I'm telling you pretty bad. Shields of Strength sent me my Champions jacket and I LOVE it. It's a true treasure that I will wear at every figure competition I enter. I wore it for the first time at the Arnold and I felt like a million bucks. WIsh I had a picture to share. It's coming Blake I PROMISE!!
The back reads....
Joshua 1:9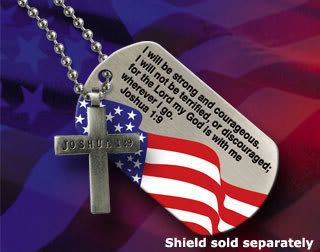 and the front reads Shields of Strength
Thank you Kenny, Blake and Mindy. I am forever grateful.