So yesterday was my sweet daughter Karli's 6th birthday....she was so excited.
She kept asking Tom and I for a dog. With all the trips we will be making to Seattle I just know it's not a good time to buy an animal. I tried to explain to her how much responsibility comes with a puppy, but she assured me she could take good care of him. After many talks back and forth she finally came to me and said "Okay mom I will have a computer puppy". I didn't have a clue what she was talking about, but I found one at Walmart yesterday. It's a virtual puppy that you feed, play with, take potty and so on. Lots of responsiblity for a six year old, but we will see how it goes. LOL
She insisted her dad make and decorate her cake. They went to the store together and came home with a chocolate cake, strawberry frosting with a jar of cherries for the top. Very creative. Tom did a great job.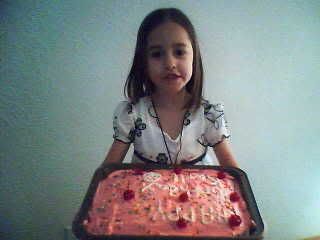 Now onto my show dates. Yep, Maria and I have picked the dates.
#1 = Northern Classic - Tacoma Washington - 18 weeks out
#2 - Evergreen - Washington - 21 weeks out
#3 - Ironman - 23 weeks out
Isn't this EXCITING!!!
I am so HAPPY to put these dates on my calendar.